Choose a Workstation
Current Generation HP Z Workstations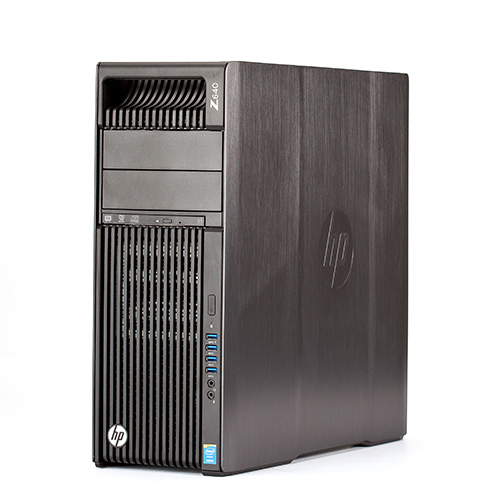 HP Z640 Workstation
Base
6-Core 2.4GHz Intel Xeon E5 V3 'Haswell' processor (6-cores; 12-threads)
32GB (4x 8GB) 2133MHz DDR4 memory (up to 256GB)
500GB Solid-State Drive (~500MB/s)
Quadro K2200 4GB (up to 2x GPU)
$2350.00
Recommended
18-Core 2.3GHz Intel Xeon E5 V3 'Haswell' processor (18-cores; 36-threads)
64GB (4x 16GB) 2133MHz DDR4 memory (up to 256GB)
500GB NVMe Flash Storage (~2000MB/s)
Quadro K2200 4GB (up to 2x GPU)
$4750.00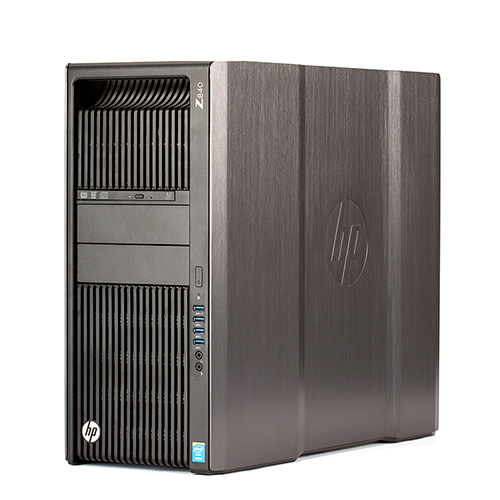 HP Z840 Workstation
Base
Two 6-Core 2.4GHz Intel Xeon E5 V3 'Haswell' processors (12-cores; 24-threads)
64GB (4x 16GB) 2133MHz DDR4 memory (up to 1TB)
500GB Solid-State Drive (~500MB/s)
Quadro K2200 4GB (up to 3x GPU)
$4000.00
Recommended
Two 18-Core 2.3GHz Intel Xeon E5 V3 'Haswell' processors (36-cores; 72-threads)
128GB (8x 16GB) 2133MHz DDR4 memory (up to 1TB)
500GB NVMe Flash Storage (~2000MB/s)
Quadro K2200 4GB (up to 3x GPU)
$7750.00
Previous Generation HP Z Workstations
HP Z620 Workstation
Base
8-Core 2.7GHz Intel Xeon E5 'Sandy Bridge' processor (8-cores; 16-threads)
32GB (4x 8GB) 1333MHz DDR3 memory (up to 64GB)
500GB Solid-State Drive (~500MB/s)
Quadro K4000 3GB (up to 2x GPU)
$1750.00
Recommended
12-Core 2.5GHz Intel Xeon E5 V2 'Ivy Bridge' processor (12-cores; 24-threads)
32GB (2x 16GB) 1866MHz DDR3 memory (up to 256GB)
500GB Solid-State Drive (~500MB/s)
Quadro K2200 4GB (up to 2x GPU)
$2750.00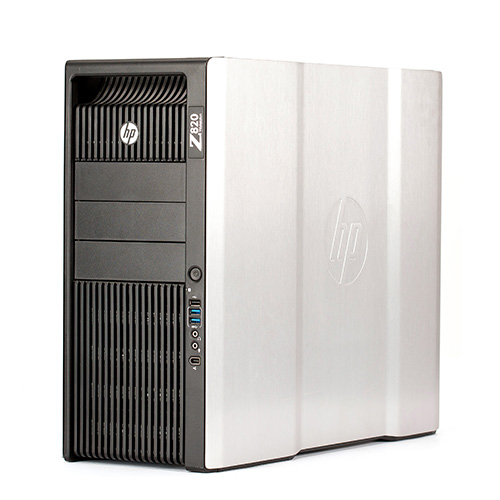 HP Z820 Workstation
Base
Two 8-Core 2.7GHz Intel Xeon E5 'Sandy Bridge' processors (16-cores; 32-threads)
64GB (16x 4GB) 1333MHz DDR3 memory (up to 256GB)
500GB Solid-State Drive (~500MB/s)
Quadro K4000 3GB (up to 3x GPU)
$1750.00
Recommended
Two 12-Core 2.5GHz Intel Xeon E5 V2 'Ivy Bridge' processors (24-cores; 48-threads)
64GB (4x 16GB) 1866MHz DDR3 memory (up to 256GB)
500GB Solid-State Drive (~500MB/s)
Quadro K2200 4GB (up to 3x GPU)
$4450.00
HP Z600 Workstation
Recommended
6-Core 2.93GHz Intel Xeon 'Westmere' processor (6-cores; 12-threads)
24GB (3x 8GB) 1333MHz DDR3 memory (up to 48GB)
1TB 7200RPM hard drive
Quadro 4000 2GB (up to 2x GPU)
$850.00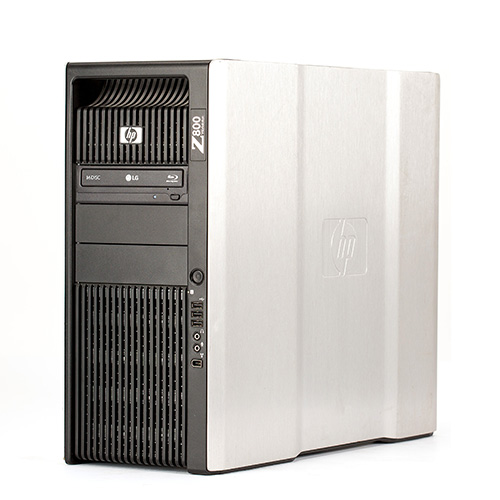 HP Z800 Workstation
Recommended
Two 6-Core 2.93GHz Intel Xeon 'Westmere' processors (12-cores; 24-threads)
48GB (6x 8GB) 1333MHz DDR3 memory (up to 192GB)
1TB 7200RPM hard drive
Quadro 4000 2GB (up to 3x GPU)
$1400.00
Need help choosing your configuration?
We would like to assist you in choosing a configuration that best fits your software and hardware needs. If you would like a recommendation, please complete the following form and we will get back to you within 24 hours.
The Z Advantage
Configuration Assistance
Recommendations based on your industry applications from technicians with years of experience.
Build to Order
We will prepare your workstation once you place an order. First, we will process your order through our inventory and create your shipping label. Second, your workstation will enter our assembly line where the components and OS will be installed. Finally, your workstation will undergo benchmark and stability testing prior to shipment.
Scalable
We cater to small, medium, and large businesses to home offices. Whether you're looking for purchase quantity for a corporation or or university, or your own home office, we have you covered.
Quality
Components are new, from reputable brands and the highest performance models. Current generation Z640 and Z840 workstations are new. Previous generation Z820, Z620, Z800, Z600 workstations are pre-owned by professional facilities and thoroughly tested.
Warranty
One-year warranty on current generation Z640 and Z840 workstations. 60-days warranty on previous generation Z820, Z620, Z800, Z600 workstations. See Policies for more details.
Support
Post-sale hardware support for the duration of owning the workstation. Inquiries answered typically within 24 hours.
Efficiency
Most orders shipped within 72 hours. We maintain a vast inventory which allows us to process orders as they enter our system.
Worldwide/Global Shipping
Domestic Shipping via FedEx Ground and Express. Global Shipping via USPS Express and FedEx Express. Workstations ship in double wall boxes with custom molded foam to ensure safe arrival.
Use Cases
Content Creation
Universally supported with the latest content creation software tools, HP Z Workstations allow creative professionals to do more in less time on a wide range of content creation projects.
Computation Tasks
Whether you're simulating robust particle systems, crunching large data sets, or plotting fluid dynamics models, our TESLA workstations deliver unparalleled computational performance.
HD+ Video Editing
Experience an improved workflow process, dramatically cut down render times, and handle even the most intensive multi-layer effects with ease. Our custom configured video editing HP Z Workstations allow creative professionals to do more in less time.
Design & Rendering
Increase scene complexity and the scale of your projects across a multitude of software platforms with our CAD workstations, featuring Intel Xeon CPUs, unlock a new level of performance to maximize your creativity.
Ask Our Expert Staff
Need expert advice? We are here to help! Please fill out the form below to have a technician contact you.
Fields marked with * are required.
Contact Us
Call: (310) 844-6661 (Monday - Friday, 10am - 6pm PST)
Email: sales@zworkstations.com