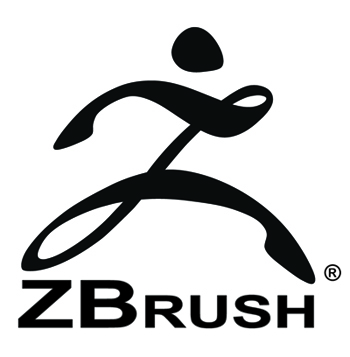 ZBrush
ZBrush is a digital sculpting tool that combines 3D/2.5D modeling, texturing and painting. It uses a proprietary "pixol" technology which stores lighting, color, material, and depth information for all objects on the screen. The main difference between ZBrush and more traditional modeling packages is that it is more akin to sculpting.
Component Recommendations

Processor
3D Modeling
Building meshes, extruding polygons and other 3D modeling tasks are single-threaded, meaning they only utilize one CPU core. If using this software mostly for modeling, we recommend a processor with 4 to 6 cores and a high clockspeed (3.2GHz and above).
Animation
Like 3D modeling, animation is also single-threaded. Therefore a processor with high clockspeed and 4 to 6 cores is also recommended.
Rendering
While 3D modeling and animation only utilize one CPU core, rendering is a highly multi-threaded task and therefore a high amount of CPU cores will provide better performance.

Memory
In general, 3-6GB of RAM per CPU core is recommended. For example, if you select a single 12-core processor, 32GB will suffice for basic tasks or 64GB for more demanding workloads.

Storage
We recommend having two drives which provides the best performance:
Primary Drive: SSD for the operating system and software
Secondary Drive: another SSD, or for better performance, an NVMe Flash Storage Drive (the "HP Z Turbo Drive") for active project files
If you need additional storage for large, infrequently accessed files, we also recommend one or more 4TB, 6TB or 8TB+ hard drives. Hard drives also work well for storing export files as the export/rendering process is generally not write intensive.

Graphics
This application has minor benefits from GPU acceleration, so a high-end graphics card is not required. Therefore, we recommend an NVIDIA GeForce GTX 1070.

Chassis
The Z840 is recommended if you require dual processors or dual high performance graphics cards. The Z840 can support up to 6 hard drives or 10 SSDs.
The Z640 is recommended if you require a single high-end processor or single high-performance graphics card. You can always add a second processor and double the memory at a later date using the optional Z640 processor riser. The Z640 can support up to 4 hard drives or 6 SSDs.
The Z440 is recommended if you require a single processor with a low core count or mid-range graphics card. The Z440 can support up to 4 hard drives or 6 SSDs.
---
Configuration Recommendations