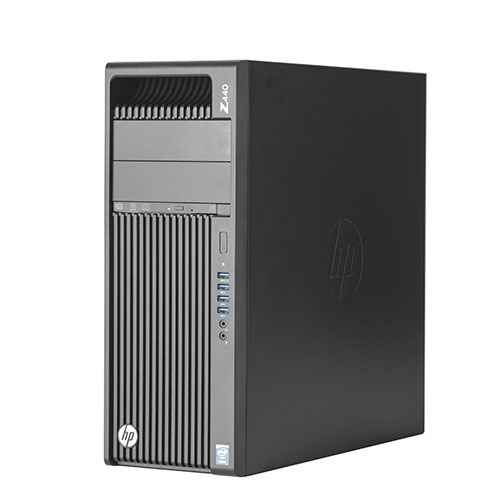 Manufacture Year(s)
2015 - 2018
Form Factor
Rackable minitower
Processor Family
Intel® Xeon® E5 2600 v4 processor
Intel® Xeon® E5 1600 v4 processor
Intel® Xeon® E5 2600 v3 processor
Intel® Xeon® E5 1600 v3 processor
Chipset
Intel® C612
Memory
8 DIMM slots
Up to 512GB (8x 64GB modules)
Memory speed:2133MHz with v3 processor and 2400MHz with v4 processor
Only registered memory is supported
Drive Bays
Total Bays = 5
2 Internal 3.5" storage bays (All 4 include acoustic dampening rail assemblies)
2 Internal 5.25" bays
1 Internal Slim-line Optical bay
Internal Storage
1TB/2TB/4/TB/6TB/8TB/10TB/12TB/14TB/16TB SATA3 Hard Drive (Western Digital)
250GB/500GB/1TB/2TB/4TB SATA3 Solid-State Drive (Samsung)
256GB/512GB/1TB/2TB/4TB HP Z Turbo Drive (Samsung)
Optical Storage
Slim SATA SuperMulti DVD writer
SATA Blu-ray reader
SATA Blu-ray writer
Additional Storage
HP 15-in-1 media card reader (optional)
HP DX115 Removable HDD Frame/Carrier (optional)
Available Graphics
NVIDIA GeForce
NVIDIA Quadro
NVIDIA NVS
AMD Radeon Pro
I/O Controller
HP Thunderbolt 2 PCIe 1-port I/O Card (optional)
FireWire 800 PCIe 3-port (optional)
USB-C PCIe 2-port (optional)
Audio
Integrated Realtek HD ALC221
Communications
Integrated Intel® I218LM PCIe GbE;
Intel® I210-T1 PCIe GbE (optional);
HP X540-T2 10 GbE Dual Port Adapter (optional)
HP X520-DA2 10 GbE Dual Port Adapter (optional)
HP 10 GbE SFP+SR Transceiver (optional)
HP 361T PCIe dual-port gigabit (optional)
Intel® 7260 802.11 a/b/g/n PCIe WLAN (optional)
Intel® 8260 802.11 a/b/g/n/ac with BlueTooth® 4.2 PCIe NIC (optional)
Expansion Slots
2 PCIe Gen3 x16
1 PCIe Gen3 x8 (open-ended)
1 PCIe Gen2 x4 (open-ended)
1 PCIe Gen2 x1 (open-ended)
1 PCI Open-ended connector allows a greater bandwidth card to be installed physically into a lower bandwidth connector/slot.
Ports and Connectors
Front: 4 USB 3.0; 1 microphone; 1 headset
Rear: 4 USB 3.0; 2 USB 2.0; 2 PS/2; 1 RJ-45; 1 audio line in; 1 audio line out
Internal: 1 USB 2.0; 1 USB 3.0
Power
700 W 90% efficient, wide-ranging, active PFC
Dimensions (H x W x D)
6.65 x 17.5 x 17 in
16.9 x 44.5 x 43.2 cm
Weight
24.3 lb
11 kg
(Exact weight depends upon configuration.)
Energy Efficiency Compliance
ENERGY STAR® qualified and EPEAT® registered configurations available
To create a quote, first add this product and any other products to your cart. Then within the cart, click the "Save Quote" button.
Ask Our Expert Staff
Need expert advice? We are here to help! Please fill out the form below to have a technician contact you.
Fields marked with * are required.
---
Contact Us
Call: (310) 844-6661 (Monday - Friday, 10am - 6pm PST)
Email: sales@zworkstations.com